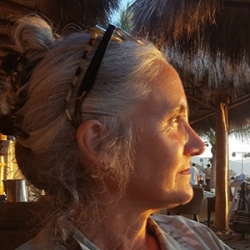 Natasha V.
Lecturer Faculty
Email: vnatasha@sfsu.edu
Location: Fine Arts Building, Room 339
Office Hours:
Wed:
9:30 a.m. - 10:30 a.m.
on Zoom or by appointment
Biography
Natasha V. studied screenwriting at Columbia University in New York, earned an M.F.A. in Cinema Production from SF State, and both B.A. & M.A. in Rhetoric from UC Berkeley. Her creative interests focus on problems in writing for the female Protagonist as well as alternative narrative structures. Natasha's scripts have been awarded in national screenwriting competitions and her writing has appeared in magazines, museums, and the internet.