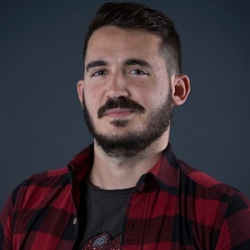 Pablo Riquelme Cuartero
Lecturer Faculty
Production Coordinator
Email: priquelm@sfsu.edu
Office Hours:
Mon:
10:00 a.m. - 4:00 p.m.
Tue:
10:00 a.m. - 4:00 p.m.
Thu:
10:00 a.m. - 4:00 p.m.
Fri:
10:00 a.m. - 4:00 p.m.
Pablo Riquelme started as an actor in Spain when he was 11 and decided to get behind the camera around the same time to direct his first short films. Since then his work has been selected in prestigious Film Festivals like Sitges Horror Film Festival and Los Angeles Independent FilmFestival. He directed his first feature movie in 2010, "Armengola. La leyenda", and after five years working as a film critic and getting a Media Studies Degree in the movie studios CIUDAD DE LALUZ, Pablo moved to Los Angeles, California, to study film directing at UCLA. In Hollywood, Pablo directed the promotional videos of the singer and Vogue magazine model Josh Beech and his thriller "Dead Flowers" is now available on Amazon Prime Video. It's won eight awards including best movie, and best screenplay. He's currently living in San Francisco, California, as a Diplomatic citizen by the Fulbright Commission. His newest work, "Heads Will Roll", stars the famous Horror Film icon Tony Todd. Pablo is also working in Hollywood in the development of several feature films and TV shows.