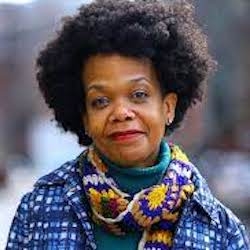 Rae Shaw
Assistant Professor
Email: nraeshaw@sfsu.edu
Location: Fine Arts Building Room 441
Email 48 hours in advance for an appointment.
Biography
Rae Shaw is an interdisciplinary media artist and educator creating innovative and provocative narratives across multiple disciplines of visual media, fiction/non-fiction, performance and poetry. Her projects have explored and investigated issues of diversity, sexuality, disparity and connection.
Shaw's work seeks to uplift the experiences of women of color and to combat stereotypes of the black female in visual media. In her scholarly work she is also concerned with issues of equity, access, and representation. Her award-winning films have screened at prestigious film festivals including the Slamdance Film Festival, Reel Sisters of the Diaspora Film Festival, and London's BFM International Film Festival, as well as international and independent showcases such as Toronto's Pleasure Dome. Her scripts have also received honors from noted screenwriting competitions such as the Motion Picture Academy's Nicholl Fellowship.
After working for industry veterans, Shaw turned to sharing her storytelling skills by teaching filmmaking and screenwriting across various genres, mediums and platforms. She founded her production company Wicked Lovely Films and Media to tell diverse stories focusing on social change and to mentor new media makers. She is a fervent patron of the library and often works with nonprofits in local communities.
Shaw is the recipient of numerous fellowships including the Mellon Mays Undergraduate Fellowship, Francis E Williams Artist Fellowship, Marvin Miller and Guy Hanks Screenwriting Fellowship, and Mass Cultural Council Artist Fellowship. Shaw received her B.A. in English Literature and Language from University of Chicago and her M.F.A. in Motion Pictures from University of Miami.