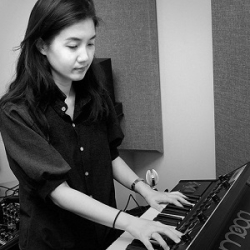 Rosa Sungjoo Park
Assistant Professor
Phone: (415) 338-3059
Email: rosapark@sfsu.edu
Location: Fine Arts Building, Room 545
Office Hours:
Fri:
10:00 a.m. - 12:00 p.m.
by appointment
Please email to set up an office hours appointment.
Biography
Rosa Sungjoo Park is a sound designer and artist whose research interest is centered on the study of psychoacoustics, computer music composition and experimental sound, digital/mixed media, field recording, sound objects/sculptures, sonification, and the physicality of sound. Park explores various aural materials and their sonic characteristics, seeking unusual ways of seeing and hearing that unlock new spiritual experiences. Park's practice and performance are deeply rooted in her cultural identity, memories, and religion, and she has produced a large number of works that deal with Korean traditional rituals, acoustic memories, the nature of life and death, and environments.
Park's work has been exhibited and performed in galleries and theaters in the United States, Canada, and South Korea. She recently performed at the 26th International Community for Auditory Display (ICAD 2021) and won the Best Use of Sound Award (concert piece) and received the Honorary Artist in Residency Award (2021-2022 Media Arts Residency Award) from Kala Art Institute in Berkeley. Park holds master's degrees in Digital + Media (DM) from Rhode Island School of Design, Interdisciplinary Studies (Visual Arts) from the University of British Columbia Okanagan, and Visual Communication Design from Seoul National University. She has taught at Rhode Island School of Design, Florida Atlantic University, and currently serves as Assistant Professor in the School of Cinema at San Francisco State University where she teaches courses in sound design and production, interactive cinema, and experimental filmmaking.
Selected Works
Sound Design, Rerecording, and Mixing for a feature documentary film, "80 Years Later" directed by Celine Parreñas Shimizu, 2022
"Memories," Computer Music Composition, streamed on the ISSTA Listening Room on SARC Radio, 2022
"Algorithmic Music Composition for The Environment," Music Composition & Sound Performance (online), Kunstuniversität Graz and Wegener Center for Climate and Global Change, Austria, 2022
"Sounding Silence," Sound Installation (ongoing), Kala Art Institute Residency Project, 2022
"Pitch Shifter," Multi-channel Sound Installation (ongoing), Kala Art Institute Residency Project, 2022
"Walking the Threshold:" Research on Spiritual Practices Through Expanded Cinema and Spatial Audio Experimentation, funded by the Marcus Early Career Research Award and the LCA RSCA (Research, Scholarship and Creative Activities) Recovery Award (ongoing), San Francisco State University, 2022
"The Emergent Campus: Augmented Reality Narratives of Student Presence, Connection, and Activism" (ongoing), Group Exhibition (collaborative project between the School of Cinema and Design Department, funded by the LCA Extraordinary Ideas Grants), San Francisco State University, 2022
"The Tree in my Backyard is Tall and Strong," Music Composition & Live Performance @ CNM New York (online), 2021
"Pattern Play: Interactive Music System for The Environment," Sound Performance @ ICAD 2021, The 26th International Conference on Auditory Display, Best Use of Sound Award (Concert Piece), 2021
"Pattern Play No.2," Computer Music Composition & Live Sound Performance @ ISSTA 2020: SONIC PRACTICE NOW organized by ISSTA (Irish Sound, Science & Technology Association) (online), 2020
"Imaginary Lights," Multimedia performance, the Projects, Ft Lauderdale, 2017
"Windless," Sound performance, Anthropology Conference, Granoff Center Studio-1, Brown University, 2016
"Absence and Presence," Sound Sculpture Installation, Dark Matters, Sol Koffler Gallery, 2016
"Programming Sound: Performance Systems," Sound performance, Metcalf Auditorium, Chace Center, Rhode Island School of Design, 2015
"Altered Memory," Interdisciplinary Performance, Multimedia & Electronic Music Experiments (MEME), Brown University, 2014
"Forgotten Dreams: Meditations on Narrative Space," Installation, FINA Galley, University of British Columbia Okanagan, Canada, 2014
"The Sublime," Photography solo exhibition, FINA Galley, University of British Columbia Okanagan, BC, Canada, 2014
"The Medium is the Message," Live audio-visual performance, FINA Galley, University of British Columbia Okanagan, Canada, 2013
Research Projects & Publications
Sound & Music Computing, Sonic Interaction Design Project at SIX (Sonic Interaction & Experience), Rhode Island School of Design, 2015
"Absence and Presence" Artist's Writing, Rhode Island School of Design, 2016
"Forgotten Dreams: Meditations on Narrative Space: The Design and Integration Process for the Audiovisual Space Composition," Joint Conference of Asia Digital Art & Design Association (ADADA), Korean Society of Design Science (KSDS) and Society of Design Convergence (SDC): 2013
"A Study on The Visual Expression of Image for Stage in The Performing Music arts: Focusing on Visualization of The Glassworks in the Philip Glass's Music," Seoul National University, 2008
"A Study on Information Graphic Expression in Cyberspace," Proceeding of the Fall Design Conference of Korean Society of Design Science, 2007
Website: www.rosapark.org