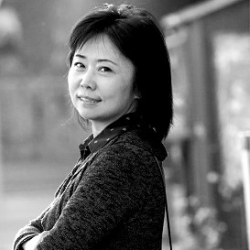 Documentary Advisor; ON LEAVE Fall 2023
Phone: (415) 405-3410
Email: weimin@sfsu.edu
Location: Fine Arts Building, Room 346
Biography 
Professor Zhang is an award-winning filmmaker – one of China's Sixth Generation filmmakers – and a graduate of the Beijing Film Academy and Ohio University film schools. Since 1992, she has worked on numerous award-winning films, documentaries, and TV drama series in both China and the U.S. Her many successes include The House of Spirit (2001), which won the "Women in Film Award" and was also featured in over a dozen film festivals. In 2007, The Library of Congress acquired her interactive multimedia DVD-ROM, Nushu: The Women's Secret Writing, for its permanent collection. In 2008, as a U.S. unit director, she filmed the U.S. Olympic athletes pre during the post-2008 Olympics as well as the San Francisco torch relay sequence which became the major content appearing in the award-winning feature documentary film, The Ever Lasting Flame – Beijing 2008 (2009). The film has become part of the permanent collection in the Olympic Museum, Lausanne, Switzerland. She was awarded an SF State Presidential Award for Professional Development (2008); Distinguished Alumni Award, Ohio University (2005); Tides Foundation Film Award (2008); Pacific Pioneer Film Award (2008).
Education:
M.F.A., Ohio University, Athens
M.A., Ohio University, Athens
B.F.A., Beijing Film Academy
Selected Publications & Filmography:
Filmography
"The Everlasting Flame: Beijing 2008", 35mm, documentary (U.S. unit - Director), 2009
"Genius of Chang Dai-Chien", documentary (Director, Preproduction)
"The Last Days of Beijing Hutongs", feature, documentary (Director, Editor, Finishing)
"Dreaming the Quiet Man", HD, feature, documentary (U.S. unit - Cinematographer), 2010
"I love You Daddy", HD, short (Director of Photography), 2009
Publications
Zhang, W.(forthcoming) The Spirit of Tibet – photography book, scheduled publishing by Phoenix Press & Media Network, China, (Scheduled publishing in October 2011)
Zhang, W. (2006). The Secret Language of Women – Interactive multimedia DVD-Rom, published by China Encyclopedia Press, Beijing
Aitken, I., ed.(2006), Zhang, W. "Bumming in Beijing" (article) in The Encyclopedia of the Documentary Film, Volume 1-3 New York: Routledge.
Interviews
Zhang, Weimin. Integrating Online Multimedia. Pachyderm Presentations: CSU Projects.
Website(s):