SF State's 'Generosity of Spirit' Inspires Alum Delroy Lindo in Storied Acting Career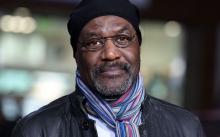 Delroy Lindo is known to bring gravitas to any scene he enters. It has come across in dozens of films (including "Da 5 Bloods," "The Cider House Rules" and "Malcolm X") and in his Tony-nominated theatre roles. Less known is that Lindo, at age 50, took the stage at San Francisco State University's Commencement in 2004, walking alongside fellow recipients of the Bachelor of Arts in Cinema.
He made sure his young son not only saw him on the Commencement stage in Cox Stadium but also the dedication it took to make it there.
"I needed my son to see me put the work in. I needed to set an example," Lindo told graduates at this year's School of Cinema Valediction Ceremony, held May 28 through Zoom. "I needed for him to see me applying myself so that hopefully the example I would set for my 3-year-old son would translate into his educational desires later on in his life."
King Since Kindergarten
Lindo was only 5 or 6 years old when he discovered acting as his passion. He recalls vividly a rehearsal in his native England for a school Nativity play. Lindo played one of the kings. The teacher noticed one classmate was struggling to recite his lines without looking at the cardboard cue card in his hands.
"At a certain point she said to him that he should do it like me," Lindo told SF State News in mid-May. "He should watch what I was doing, and that would help him."
It was a moment that he only recently realized was so impactful.
"It was not an affirmation for my ego. It was just an affirmation for who I was, as a little Black kid in this all-white elementary school," Lindo said.
SF State's 'Generosity of Spirit' 
In 2003 and 2004, long before the COVID-19 pandemic forced all students to go to school remotely, Lindo took his San Francisco State classes by correspondence. He used a pseudonym. Even some of his instructors did not know one of their students was a famous actor.
Returning to SF State for this year's Cinema ceremony reminded him of the "generosity of spirit" he experienced as a student, and he personally thanked former College of Creative Arts Dean Keith Morrison and Associate Dean Wan-Lee Cheng. Their investment in his academic success remains an inspiration.
"Entering into State, I was going through certain professional challenges and frustrations in my career," said Lindo, a first-generation college graduate. "In light of that ... I knew I had to utilize my time very effectively and efficiently to get my work done.
"What that meant for me: It meant bringing everything — every single thing that I had accumulated at that point in my life, in terms of my professional experience — and focusing it into my studies at San Francisco State. It was not always easy."
Lindo urged the graduates to harness all of their experiences as motivation — the good, the bad, and the indifferent.
"If you are able to embrace your challenges and put them to constructive use, that's where magic can happen," he said.
There will be snubs
After nearly 70 roles in film and television over three decades, Lindo still has never been nominated for an Academy Award, Golden Globe or Emmy. Critics thought the Oscars would finally call this year with Spike Lee's Vietnam War film "Da 5 Bloods." Lindo mustered a transcendent portrayal of Paul, a Trump-supporting veteran with PTSD, amid a physical shoot over three months in the jungles of Southeast Asia.
After "Da 5 Bloods" received only one Oscar nomination, OkayPlayer.com declared Lindo one of the greatest actors of all time and called his lack of recognition "criminal." Lee and "Moonlight" director Barry Jenkins used social media to voice their support for Lindo.
Awards or not, Lindo is pleased by the audience reaction to his performance, he tells SF State News, noting a diverse range of veterans have told him they empathize with the film's five protagonists.
"In the final analysis, our humanity was front and center," said Lindo, whose next film is "The Harder They Fall," a Western coming this fall in which he stars alongside Regina King, Idris Elba, and LaKeith Stanfield. "We were not boxed in by our African-ness, but rather we were members of the human race."
Before closing his speech to Cinema graduates last month, Lindo discussed how he handled a recent, unspecified "disappointment" in his career.
"It knocked me sideways for a second," Lindo said. "But what I can also tell you is that I had to pick myself up and keep moving forward.
"I will not allow those kinds of disappointments, those kinds of snubs, rejections," he added, "I will not allow those things to define who I am. Because I understand I am bigger and better than that. And each and every one of you is also."
— Matt Itelson